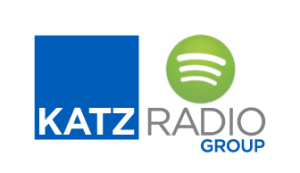 Spotify announced today that it has partnered with Katz Radio Group for sales representation. Katz will exclusively represent Spotify's geo-targeted audio inventory throughout the U.S., starting immediately.
Spotify announced the creation of its geo-targeted ad platform, in partnership with Triton Digital, last December. At the time RAIN News noted, "There has been much recent scrutiny of freemium-listening models, especially Spotify's plan, and this geo-targeting initiative has the potential to drive new money into the industry." If anything, there is more scrutiny now, and the Katz partnership indicates Spotify's resolve to compete for share of local audio ad dollars.
The resolve is backed up by metrics. Spotify cites 44-million monthly unique users (in comScore metrics), and notes that its free ad-supported service tier continues to grow in the U.S. "Spotify now proactively enters the geo-targeted audio marketplace via Katz, working with agencies and brands," the company said.
Brian Benedik, Global Head of Ad Sales at Spotify, emphasized not only the direct monetization effort, but also an efficiency gain in resource management. "Katz is the most respected national representation firm in the media business with leadership, audio expertise and access second to none," Benedik said. The addition of Katz's digital audio network to the Spotify free monetization effort, will help drive incremental audio revenue and allow our Spotify direct sales team to focus efforts on brand partnerships, network audio and the digital ad community."
Katz Radio Group is the self-proclaimed largest aggregator of audio streams in the market, reaching a reported 130-million monthly unique listeners.
"This new offering makes a compelling audio solution for connecting clients to consumers in an intimate, personal way," said Scott Porretti, Senior Vice President, Katz Radio Group.  "With Spotify's strength, specifically across the top 10 U.S. markets, we now have the ability to combine the best of the nation's broadcast streams with the fastest growing and most socially engaging music service in the marketplace."