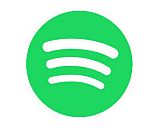 Spotify has been nibbling at podcast distribution for over a year, bundling a substantial range of popular shows into the otherwise all-music app. Making a podcast catalog available to Spotify users is convenient for some, no doubt, but we speculate that it doesn't lure a great many users away from the more established and comprehensive podcatchers.
Now, though, Spotify is moving into podcasting with a more serious intent, announcing today the launch plans for three original shows, and issuing a promise of more new programs to come. Being a podcast producer is a more serious investment of resources than merely distributing, and is an indicator of how serious Spotify takes the threat of podcasting potentially eating into the company's share of ear.
The music platform is starting off with three original shows with plans to debut more later in the year. this is how Spotify describes its new shows:
SHOWSTOPPER – Premieres February 23
Hosted by Naomi Zeichner, Editor in Chief of The Fader magazine, Showstopper brings together two of the most culturally relevant topics of our time: TV shows and music. Through interviews with music supervisors, this biweekly podcast provides a pop culture analysis of our favorite music moments in TV. Season 1 will feature Girls, OC, Scrubs, Stranger Things, Being Mary Jane and more. Produced in partnership with Slate/Panoply Studios.
UNPACKED – Premieres March 14
Co-hosts Matt FX, music supervisor for Comedy Central's Broad City, and Michele Santucci of Spotify Studios, travel to festivals around the country for daily interviews with musicmakers, filmmakers, app-makers, food-makers and all manner of creative folks gathering together.  Can't roadtrip to all the cultural festivals? Don't worry they've got you covered, starting in Austin, Texas at the annual South by Southwest conference and festival in March.
THE CHRIS LIGHTY STORY (working title) – Premieres April
The Chris Lighty Story chronicles how music industry exec extraordinaire, Chris Lighty shaped the careers of some of hip hop's most beloved artists like 50 Cent, LL Cool J, Missy Elliott, Foxy Brown, and Puff Daddy. His life followed a twisting path, with an abrupt end that left the music world reeling. Touching on issues of race, mental illness, the development of a new art form and the price of success, this podcast, hosted by Reggie Ossé unpacks his story in a way that's relatable to all music fans. The series features direct commentary from Russell Simmons, Fat Joe, Warren G, The Violator Crew, Noriega, DJ Red Alert, Troy Carter and many more.  Produced in partnership with Gimlet Media and Loudspeaker Network.
By planting this stake in the ground, Spotify joins competing music service iHeartRadio in the swarm to acquire a piece of the podcast listenership.