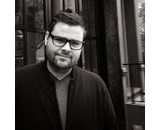 Today brings an announcement from iHeartRadio that it has hired ex-TheBlaze, ex-TuneIn exec Chris Peterson as Senior Vice President of Podcasting. the announcement was made via an internal company memo.
"Peterson will oversee iHeartRadio's overall podcast strategy and grow its profile in the podcast community," iHeartMedia's communications office told RAIN News. "He will guide content partnerships, advise the product team on its podcast roadmap, and work with sales to monetize podcast efforts."
Chris Peterson moves to iHeartRadio from TuneIn, a direct competitor in the radio aggregation business, though the two companies' strategies differ in particulars. Peterson was Content Partnership Manager at TuneIn, where he worked on the Premium product which embodies unique content provider relationships. He was Director of Operations at The Blaze, where he was positioned when he spoke on a podcast panel at RAIN Summit West, April 2014 in Las Vegas.
Peterson also has a radio background, holding Affiliate Relations positions at Premiere Networks from 2007 to 2012.
iHeartRadio functions as a podcatcher in addition to a terrestrial radio streamer and Pandora-like internet radio. An on-demand service called All Access is planned but not yet launched.

On another note, iHeartRadio recently hired Beth Murphy as Senior Vice President of Marketing. Murphy came from Paris-based music service Deezer, where she was Chief Marketing Officer.
---