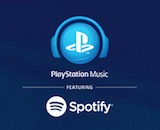 In a development that could impact streaming audience share of the competitive music-service market, Sony announced that it will launch PlayStation Music with Spotify as an exclusive partner. This means a new music service is coming to the PlayStation Network's 64 million active users. The music platform will have more than 30 million songs in its catalog. No release date has been announced, just a general plan to launch this spring.
According to the press release, PSN members will be able to link their accounts with Spotify. The music service will be made available in 41 countries on the PlayStation 4, PlayStation 3, and Xperia smartphones and tablets.
The change means that Sony's existing Music Unlimited service will shutter on March 29. Premium subscribers to the old service will get free access to the replacement for a month prior to the shutdown date.
The deal is significant for Spotify — potentially as important to its audience development as a telecom deal. Music and gaming fit together as well as music fits with smartphones. Bundling Spotify onto a major gaming platform will enable 64-million active users to soundtrack their time-intensive gaming sessions with Spotify playlists. PlayStation owns credit card relationships via PlayStation Network's wallet function, so that provides a streamlined on-ramp to spotify7 Premium subscription.