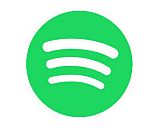 The partnership between Spotify and lyrics provider Musixmatch has dissolved as of May 27. As a result, the Lyrics button in Spotify's interface no longer displays the words to the currently playing song. That feature first appeared on the desktop version of the service last February.
In a blog post discussing the end of the deal, Musixmatch first shares the glowing user response to the addition of lyrics into the Spotify product. Then it delves into a statement of commitment to its own business purposes. "It was a great partnership and there is mutual respect between both companies as our business strategies move us each in different directions," Musixmatch Founder and CEO Max Ciociola said. "We regret the end of this partnership, but we must keep to our product and our users above all else. We will not allow anybody to ignore our business model."
The speculation stemming from the blog post is that Spotify may have been pushing for exclusive use of Musixmatch's service, since some of Ciociola's rhetoric focuses on the availability of its lyrics database to third parties. Musixmatch will still have iOS and Android apps available, as well as desktop and browser experiences. On Spotify's side, there's been no word yet on whether it will pursue a new collaboration with another lyrics database service.