S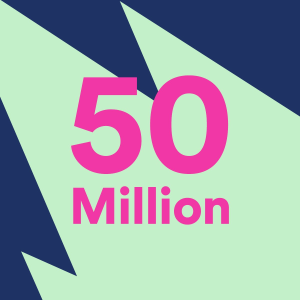 potify used Twitter to announce its milestone of 50-million subscribers, and to thank its customers. By any standard, Spotify's subscriber growth has been impressive. The company noted 40-million paying users in September, and 30-million less than a year ago. Only a few years ago, observers scoffed when Founder/CEO Daniel Ek imagined scaling his celestial jukebox vision to 100-million users.
As the global leader in on-demand music service, Spotify can better counter persistent (but fading) complaints about payment to artists, and bolster its argument for an IPO. With subscriptions retailing between $5 and $10 a month, and with Spotify sending about 70% of revenue to record labels, the company sends between $175M and $350M to recording artists each month. An analysis this week by MIDiA Research found that global record label revenue increased by $1-billion in 2016, the largest increase in 15 years. Streaming revenue grew to $5.4-billion, a 49% increase.
That doesn't mean the company's relationship with record labels is swimming. the two sides have been treading water with monthly contract renewals, according to Bloomberg. "Spotify hasn't had long-term deals with any of the three major labels for months, and recent talks have reached a standstill, according to people familiar with the discussions who asked not to be identified discussing private business matters" — that according to Bloomberg.
---