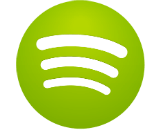 Spotify released its 2013 financials, with a basic P&L that tells a vigorous growth story, higher revenue, and lower loss compared to the previous year. At the same time, most of the gross revenue was paid into the music industry as licensing expenses.
The top line revenue number is 747-million euros, which Re/Code notes made Spotify a billion-dollar business at exchange rates from late 2013.
Spotify reported paying 604-million Euros in "Royalty, distribution, and other costs." Some media outlets report take that to mean that 81% of gross revenue was paid to rights-holders, but the "distribution and other costs" is not broken out. Spotify has previously declared that about 70% of revenue is paid directly into the music industry as licensing cost.
The year-over-year comparison seems to bear out founder Daniel Ek's thesis that scaling the business can make the company net-profitable. Gross revenue gained 74% from 2012, while the net loss dropped by 32%. (The company's gross profit is positive.)
Subscription revenue grew much faster than advertising revenue — this despite the fact that most Spotify users are in the ad-supported freemium service. this financial result comes at an industry moment in which freemium plans are under examination, and sometimes under attack, by artists (e.g. Taylor Swift) and record labels that don't believe users are sufficiently motivated to become subscribers.
Whatever the level of motivation, Spotify's global subscription business boomed from 2012 to 2013. Currently, the company claims 12.5-million subscribers across the dozens of countries in which it operates.
What of the advertising business? Anecdotally, we noted in a recent adStream column that of the freemium environments in which we counted ads, Spotify was the only one which delivered zero ads in a 20-song listening session.