The Spoken Word Audio Report 2020, produced by Edison Research and NPR, is out. This annual research project is based on listener interviews, a survey of 1,000 online respondents, and information form Edison's ongoing subscription product Share of Ear.
In this report, "spoken word audio" consists of two major categories: AM/FM talk radio, and podcasts. A third category of "Other" is represented in the study results, consisting of satellite radio, audiobooks, and streaming audio that can't be included in AM/FM or podcasting.
One broad and important finding: 75% of the U.S. population (18+) listens to spoken word audio monthly. How about daily? It's 43%.
Here is the main breakout category distribution from 2014 to 2020, where we can see the reduction to AM/FM at the hands of other distribution types: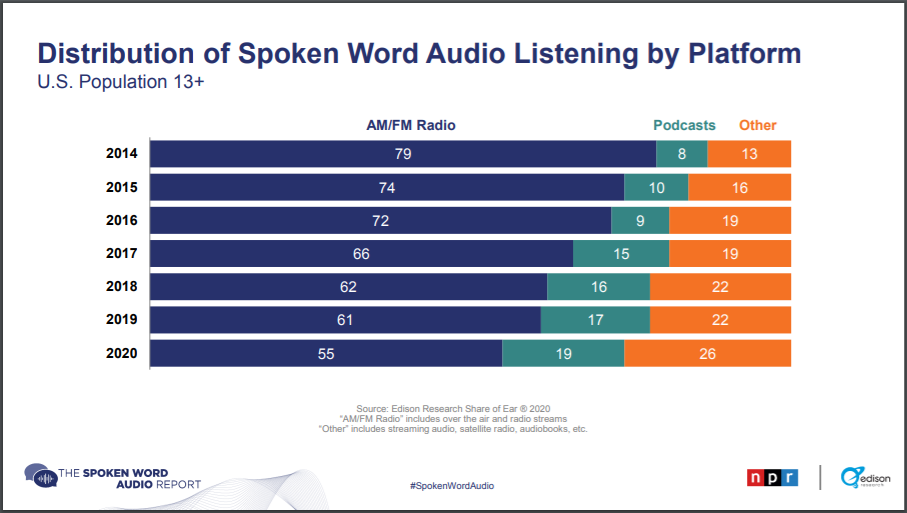 Correspondingly, use of radio receivers is whittling down as mobile devices are more present for listeners; radio platform share has reduced from 73% to 47% from 2014 to this year.
It's not just about platform. Audio category loyalty is shifting too. In the 13+ population, spoken word is eating into music listening time: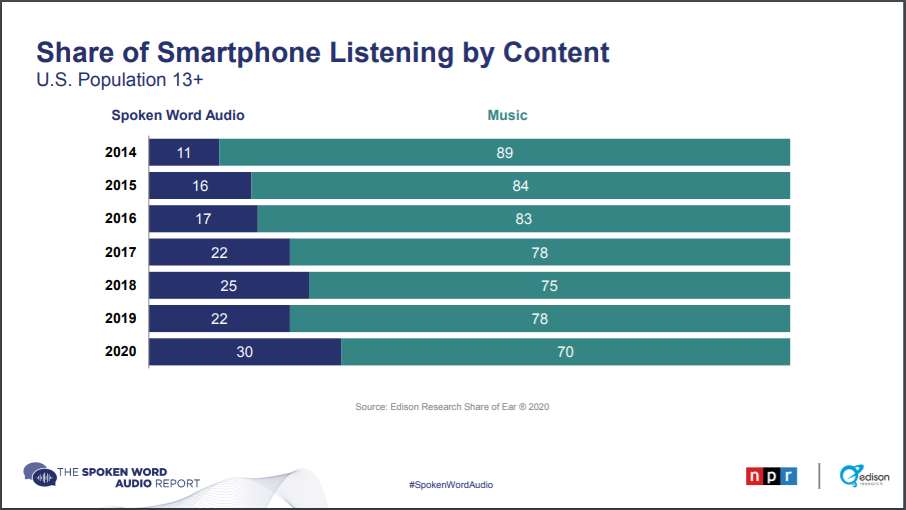 Why are people listening to more spoken word audio? A constellation of reasons, and the report (available here) spells out how they compare in influence over listening habits. Here is a word cloud summary: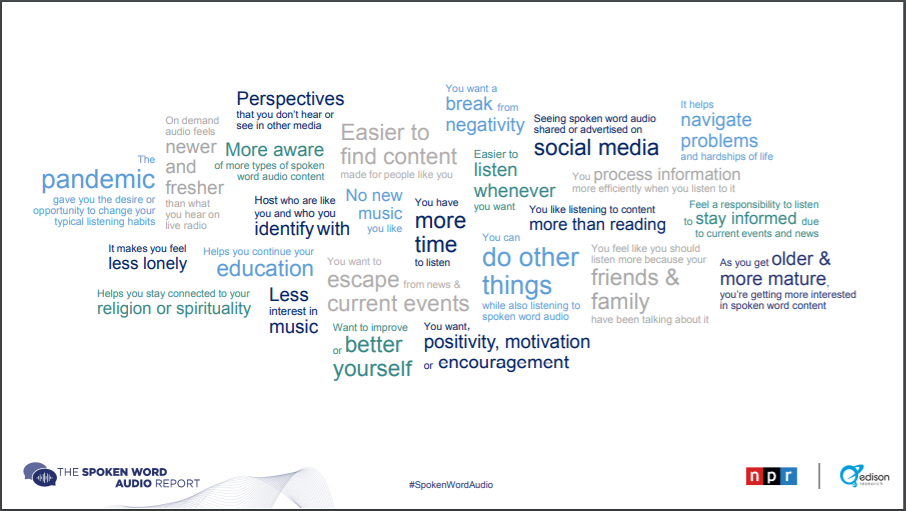 Here's something: 54% of the U.S. population has listened to an audiobook. That's a category people don't hear very much about in the glut of podcast media coverage, but metrics like this, and exploits by Amazon-owned Audible, are shining light on the vigorous audiobook category.
A couple of slides spotlight study sponsor NPR. One details the September Podtrac ranking of top publishers, where NPR is #1, and another charts share of time that listening goes to NPR/Public Radio — it is 32% in 2020. Sponsor-bragging or not, that is an impressive number (grown from 19% in 2016).
Speaking of podcasting in particular, one of the many headline metrics in this report is this: 55% of the U.S. population as listened to a podcast at some time.
The report boils down its key takeaways like this:
Spoken Word's share of audio listening has increased by 30% over the last six
years; 8% this year
Spoken word audio's growth is driven by large increases among women, younger
listeners, African-Americans and Latinos
Three-quarters of all Americans listen to spoken word audio each month; 43%
daily
In addition to the convenience and multitasking benefits long recognized for
spoken word listening, other strong motivators for increased listening are personal
growth, better content, and spoken word's ability to improve mental health
The Spoken Word Audio Report can be downloaded free HERE.