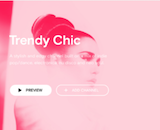 Soundtrack Your Brand has received financing of $22 million. Nordic VC fund Industrifonden and the U.K.'s Balderton Capital led the found. The company, which is backed by Spotify and founded by former Spotify execs, is a B2B version of the streaming service. Its products offer extra features specifically for brick and mortar stores, such as managing playlists for multiple locations from one place.
"Background music today is sold as a utility, and there's rarely much thought going into what music brands are playing and why," Andreas Liffgarden, former global head of business development at Spotify, said of his new operation. "Today's background music sucks for brands and consumers alike, and it's hurting the music industry at large. As lovers of music and technology, we're completely overhauling this industry, to once and for all kill bad background music."
Soundtrack Your Brand entered the U.S. market last May.