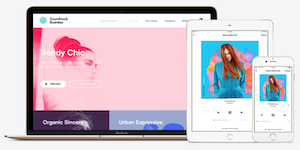 Today marks a big development in the B2B music space, as Soundtrack Your Brand arrives in the U.S. through a deal with McDonald's. Soundtrack also announced that it has received a total of $20 million in funding to date.
First, some context. Soundtrack Your Brand is backed by Spotify, which also owns a third of the company. It is a service for businesses to set the music they want played at their stores. Soundtrack is led by a duo with a strong pedigree: CEO Ola Sars was a co-creator of the original Beats Music, and co-founder Andreas Liffgarden was previously a global head within Spotify.
Companies need to pay fees in order to play online music in their locations, because a regular subscription to Spotify or Apple Music is for personal, not commercial, use. This B2B niche is currently led by Mood Media, which purchased Muzak in 2011. But Soundtrack's leaders think it has the potential to offer an easier and simpler experience.
"The market is super fragmented and dysfunctional, and when we looked at the numbers, we realized nobody had a simple cloud-software distribution solution," Sars told Bloomberg. He said that competitors were still relying on CDs and physical formats. Soundtrack's digital service also makes it a better match for the smaller businesses that may not realize that music played in their establishments are subject to licensing fees. "If you go down to a retailer who has maybe 20 to 30 locations, they probably don't contact the professional service provider," he said. "You need to be able to distribute the service in an efficient way and if it's accessible online then there's a huge market."
The U.S. version of the company's service is called simply Soundtrack Business. It will be available on Windows and iOS to start. VentureBeat reported that the company will eventually be using "multiple licensing solutions" in the U.S. That means it could end up being powered by other services besides Spotify, and also using other white-label platforms that specialize in business clients.
This particular deal, putting Soundtrack Your Business into up to 36,000 McDonald's locations around the world, is a big score for the business. Just in value, it's big: if the entire group of potential franchisees sign on, the deal would be worth about $17 million annually. But it's also a vote of confidence in the service from one of the world's biggest companies. Soundtrack isn't the only platform McDonald's uses for tunes, but having that connection has immediately put Soundtrack into the global eye.