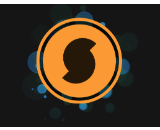 SoundHound has revamped its mobile app to place a heavier focus on music playback and voice controls. The company's software was a long-time rival to Shazam, but more recently SoundHound doubled down on the development of its Hound voice assistant program. The new features still complement its core function of identifying audio.
SoundHound 8, the newest version of its service, introduces a Play section to the app that contains music and video players. Users can connect their streaming service accounts to automatically create their own playlists with the songs they identify or to play full tracks within the SoundHound app. So far, it offers integrations with Apple Music, Spotify, YouTube, Pandora, and Deezer. It can also supply song text via LiveLyrics.
The update also adds extensive options for voice control and hands-free use. The command "OK Hound" opens the potential to ask for a specific track to be played, artist information, song identification, and more.