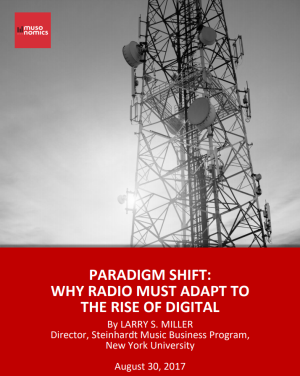 Larry S. Miller, director of the Steinhardt Music Business Program at NYU, has issued a freely available and widely discussed whitepaper that administers a whopping dose of tough medicine to the terrestrial radio industry, advising it to adapt, or else. It's called Paradigm Shift: Why Radio Must Adapt to the Rise of Digital, and is available as a PDF here.
Larry Miller, a RAIN Summit alumnus who moderated a panel of major label executives at RAIN Summit Nashville last year, is the founder and host of Musonomics, a podcast about the music industry. (Info HERE, listen HERE.)
The whitepaper premise is nothing new: Radio faces disruptive challenges from streaming, and must be adaptive. It is the intensity of bad news, supported by metrics from various sources (with special call-out to MusicWatch, Russ Crupnick's research company), and the level of stern admonishment, which has got people talking about it.
SoundExchange is credited with supporting the production of this whitepaper.
All major aspects of radio's analog legacy are taken to task:
Losing placement in the car
Shifting from tastemaking to validating hits created on streaming platforms
Exemption from label royalty payments, defended fiercely via Washington lobby, making major labels less interested in radio
Poor audience measurement compared to the server-side accuracy of digital, with special critique of non-PPM markets representing half the U.S.
Young people not listening much, and mostly unable to identify an AM/FM station they love
The issue of time spent listening (TSL), especially with demographic comparisons, is faced square on. RAIN News has often called this out from Nielsen research, though it is rarely addressed publicly by radio organizations or trade publications. Young people listen less — a lot less — even as reach remains steady. It is for radio as an industry body to decide whether TSL and demographic TSL fading is important. But the metrics are clear. In this whitepaper, Steve Goldstein is quoted: "In 2007, radio's TSL was around 20 hours. Today it hovers at 14 hours, and it is even lower among Millennials." (Steve Goldstein, Amplifi Media)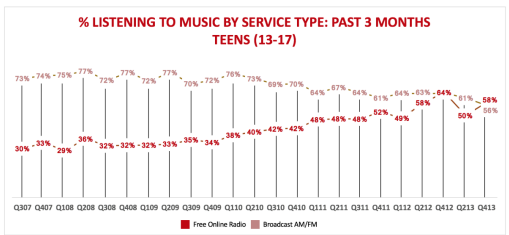 Other quotes pulled from the paper which support the overall tone of emergency:
"The power of music discovery used to lie in the hands of the radio DJ, now it lies in the hands of the playlist curator." (Mark Mulligan, MIDiA Research)
"We are on the precipice of different advertising channels taking lead positions in the local advertising marketplace." (Mark Fratrik, BIA Kelsey)
"The more your clients understand about the intricacies of the ratings system, the more likely they are to be appalled – particularly in the presence of precise metrics from online radio players like Pandora and Spotify and digital natives like Google and Facebook." (Mark Ramsay, consultant)
"My message is evolve or die." (Scott Burnell, Ford)
In the end, Larry Miller uplifts the mood by forecasting a healthy future, with a conditional IF:
"Radio needs to invest in strong and compelling digital services. If it does, radio can look forward to a robust
future built on the strong foundation it already has in the marketplace leveraging the medium's great reach, habitual listenership, local presence and brands."