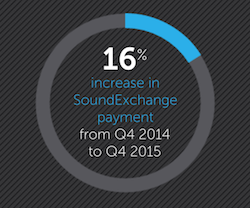 SoundExchange released its digital radio report for Q4 2015, a publication marking growth for both the quarter and the year. The company's royalty quarterly distributions increased 16% over the year-ago period to $211.4 million. The three-month period also showed a rise from the year's third-quarter payments, which totaled $204 million. For all of 2015, the distributions rose 4% on year to a record high of $802.6 million.
The company also released some insights on popular artists for digital radio in the past year, finding Drake in the top spot and Taylor Swift in second. (Since the time frame for the data was October 2014 to September 2015, last year's power performer Adele did not make the list.) According to SoundExchange's analysis, artists can reach the top tier of popularity thanks to a combination of fan support and staying power.
The report extended beyond hard numbers and emphasized SoundExchange's policy positions. It included a line of support for the Fair Play, Fair Pay Act, as well as reiterating its displeasure with the final Copyright Royalty Board ruling.
"At SoundExchange, we believe the CRB's Web IV rates are too low and fail to reflect the rates that would be established by a fair market, and we are considering all options – including an appeal," the report reads. "We also will be vocal participants in the process to set rates for satellite radio and pre-existing subscription services."