As forewarned, small webcaster station platform Live365 came to an end tonight. When we checked at 10:30pm EST, we found this sad and sentimental notice: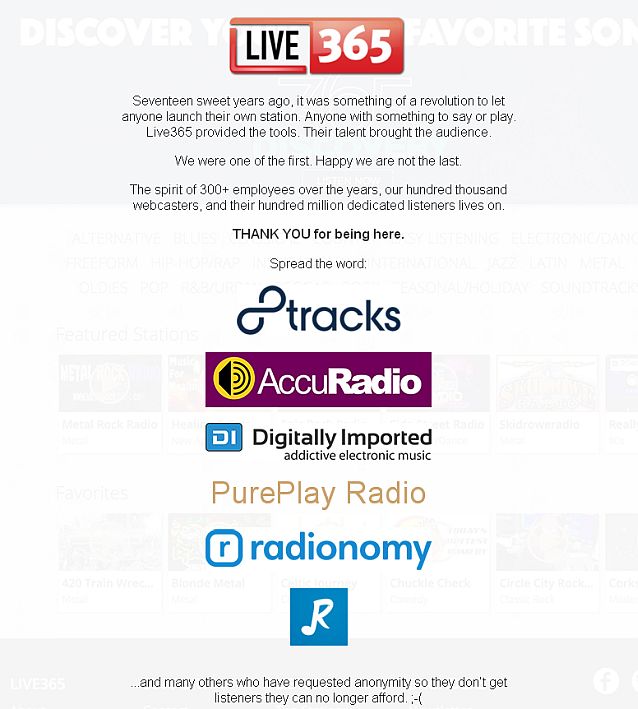 We reached out to Director of Broadcasting Dean Kattari tonight for comment, but the email was returned as undeliverable.
The first sign of trouble for the venerable Live365 was on December 30, when RAIN News reported that most of the staff had been laid off, the company office had been vacated, and a remaining staffer told us that Live365 had lost its investors.
The investor withdrawal remains unexplained, but the abrupt collapse of a pioneer in online radio is connected to the five-year cycle of music licensing royalties set by the U.S. government's Copyright Royalty Board. New rates were due in December, and were published on the 16th. Streaming royalty rates for the use of records went up about 20%, but the tectonic shock to the webcaster industry came two weeks later when the Webcaster Settlement Act of 2009, a law which had protected low-revenue stations with a special way of calculating below-market rates, expired. There was no word from SoundExchange (which collects royalties on behalf of record labels) or its client labels, about a renewal or new rate negotiations.
Many independent stations turned off their streams in January, and Live365 is the largest and most meaningful casualty. With this sizable platform out of business, thousands of stations need to find new solutions or go silent. February 1 is the deadline for paying a minimum $500 into the royalty system as a non-refundable deposit on future royalty payments, the first of which is due March 15 for January streaming.
Some of the most recognized and successful independent Internet radio stations are resolutely carrying on, implementing cost-saving solutions wherever they can. We have heard optimism, both from webcasters and attorneys, that SoundExchange and the labels will engage in discussions on behalf of the small webcaster category at some point. The Copyright Royalty Board (CRB) has not yet published its full rate determination in the Federal Register (the earlier rate disclosure was a brief summary, without any judicial reasoning or legal briefs), and RAIN News has been told by multiple sources that no special deal will be undertaken until the full determination is public — which could be weeks or months away. Even then, there is no guarantee, or even preliminary signal, that the plight of small webcasters will be on the institutional agenda.
The webcast landscape has been thinned of its vigor, entrepreneurism, and musical diversity. There is probably more culling to come before we know whether low-revenue webcasting might again provide aspiring DJs a feasible outlet in the music ecosystem.