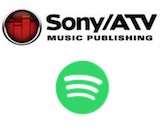 Spotify has inked a new licensing deal with Sony/ATV to offer its catalog in Europe. The deal for Sony's Anglo-American music covers all 30 territories of the European Economic Area.
Sony/ATV Chairman and CEO Martin Bandier has been critical of the payouts that songwriters and publishers receive from streaming, and the latest tie-up seems to have resolved his concerns. "We share two important goals – growing the market for paid for music subscription services for the benefit of music lovers everywhere while delivering fair compensation to our songwriters for the use of their songs," he said. "We believe we have accomplished that with this agreement."
Does that mean Sony's songwriters are getting different terms from Sony than under old deals? No financial details were disclosed, but given Bandier's interest in exercising greater control over his company's digital rights, we'd guess that there was some serious money talk at the bargaining table.