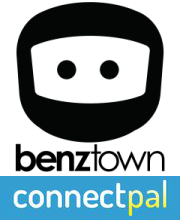 Audio production and media syndication company Benztown announced a partnership with ConnectPal, a content marketplace for independent creators. Benztown will put its talent assets into ConnectPal's monetization platform, and has also taken a financial stake of an undisclosed amount in ConnectPal.
The synergy here brings talent to market by means of ConnectPal's distribution and monetization service, which enables content creators to build and publicize "Profiles" which contain continually updated products (audio, video, text, perks like tickets to concerts) to subscribers. Musicians can certainly use ConnectPal, but the thrust of Benztown's partnership is podcasters. Benztown's syndicated talent roster includes Navy SEAL Chris Heben, the Digital Doctor Jeff Levy, and psychic Dougall Fraser. Content creators already using ConnectPal include Neal Boortz, Fox TV Star "Judge Alex," Washington Insider Paul Westcott, and supermodel Julia Gilas.
"We are thrilled to be able to offer this phenomenal content platform to content creators and personalities across the audio universe to help them monetize the creative content that they are producing each day, with no start-up costs," said Dave "Chachi" Denes, President of Benztown Radio Networks.
Both companies were founded in 2014.