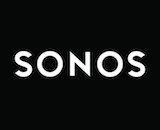 Sonos has filed an IPO. According to the paperwork, the wireless speaker company is looking to raise up to $100 million with the public offering. It said that as of March 31, it has sold 19 million products to 6.9 million households. The company added that its customers listen to 70 hours of content a month.
The Sonos filing also shared its financials from the six months ending March 31. The company reported revenue of $655.7 million, up 18% on-year. In the full 2017 fiscal year, Sonos' revenue rose 10% to $992.5 million while its net loss decreased from $30.9 million to $15.6 million.
Part of Sonos' appeal, even as other tech companies such as Amazon, Apple, and Google muscle into the space, is the company's committment to supporting outside voice assistant systems and content platforms. The Sonos One launched with Amazon Alexa support, but it plans to add Apple's Siri and Google Assistant this year.
"Our system is not — and never will be — an entry gate into a walled garden," CEO Patrick Spence said. "We're deeply committed to keeping Sonos open to every voice assistant, streaming service and company that wants to build on our platform. This approach is unique in our industry, and it requires substantial investment and long-term thinking."