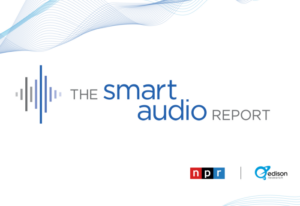 Edison Research and NPR have released the 2022 Smart Audio Report, an annual survey study measuring the growth, impact, and user behaviors of conversational AI audio. This field is generally summarized as "smart speakers," but the Edison/NPR work includes digital assistants built into phones, TVs, tablets, cars, and appliances.
In NPR's press notice about today's release, the following points were provided as key findings:
Voice technology is everywhere: In 2022, 62% of Americans 18+ use a voice assistant on any device, and those devices can include: smart speakers, smartphones, TV remotes, in-car systems, a computer/laptop, tablet, among others.
Overall usage of voice tech is increasing: In 2022, 57% of voice command users use voice commands daily. Twenty percent of smart speaker owners spend most of their audio time listening through a smart speaker, up from 18% in 2017. The weekly number of tasks is increasing: In 2022, smart speaker owners request an average of 12.4 tasks on their device each week, up from 7.5 in 2017. Smartphone voice assistant users request an average of 10.7 tasks weekly, up from 8.8 in 2020.
Ad messages delivered via voice tech are heard: Half of smart speaker owners have heard an ad on their smart speaker. Fifty-three percent of smart speaker owners who have heard an ad on their device agree they are likely to respond to ads on their smart speaker. Almost half (48%) of smart speaker owners who have heard an ad on their device say that compared to hearing an ad in another place, hearing it on their smart speaker would make them more likely to consider the brand.
We find the slide below to be interesting. It shows a year-by-year growth rate of smart speaker ownership: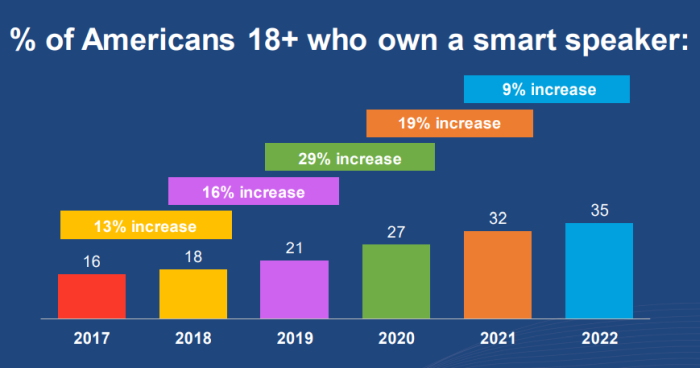 The most intense growth of smart speaker ownership happened in 2020, possibly motivated by Covid. Since then, the rate of buy-in has slowed — but this is just smart speakers, not the entire universe of digital assistance which is expressed across already-owned devices like phones and TVs. Below is a report on personal assistant use across many device — phone use is the leader by far.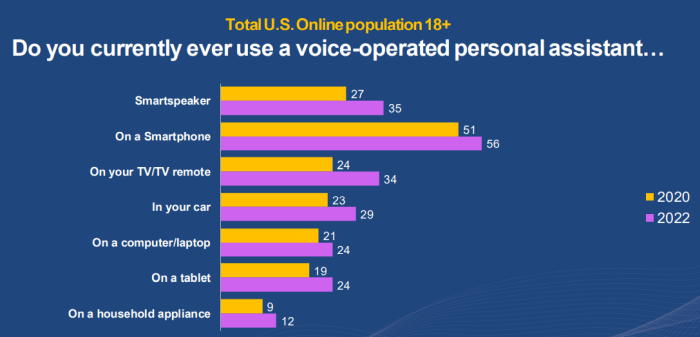 Download the full report HERE.