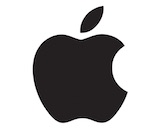 Apple has reported its financial results for the three months ending March 28. The performance overall showed slowing growth, although many of its important metrics still trended upwards.
In the company's fiscal second quarter, it reached revenue of $58.3 billion, up just 1% on-year. Net income was nearly $11.25 billion, or $2.55 per share, compared with $11.56 billion, or $2.46 per share, in the year-ago period.
While Apple is perhaps best known for its smartphone and computing hardware, those segments generally posted lower sales in Q2 2020 than in the same period of 2019. That has been the trend over recent quarters for Apple, and the coronavirus pandemic has caused disruptions to supply chains and its retail storefronts.
However, the company posted yet another record performance for its Service division. This segment saw Q2 revenue of almost $13.35 billion, compared with $11.45 billion last year. Services includes the company's content operations, such as Apple Music, Apple Arcade, Apple TV+, and the App Store. This has been a bright spot in several recent quarterly reports from Apple, which has been setting new and better record results over the past two years.