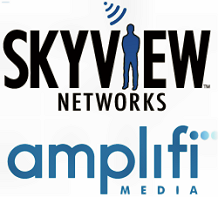 Amplifi Media and Skyview Networks have entered a new audio partnership. The two parties will offer a new service for the creation of custom audio solutions for businesses, including branded podcasts and other digital audio solutions. Their services will be available beginning with the 2020 upfront season.
"Branded podcasts are a rapidly emerging segment of podcast revenue, having grown more than 6X to $67 million from 2018-19, and are forecast to increase to $100 million by 2021," said Steve Jones, president and COO of Skyview Networks. "Working with Amplifi Media, we'll be better positioned to meet the developing needs of consumer brands that are seeking a voice strategy."
"What we know for sure in our work with radio, podcast, and smart speakers is that one-size-fits-all solutions rarely work," Amplifi Media CEO Steve Goldstein said. "We are excited to be teamed with Skyview Networks to innovate, develop and maximize audio content solutions for each platform."
Skyview Networks is a technology and advertising company with a specialty in service broadcast networks. Jones joined in his current role earlier this year, departing from an executive post at Disney/ABC Radio.