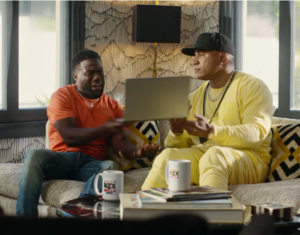 SiriusXM is making noise about a new multimedia ad campaign featuring a large and glittering array of celebrities including Kevin hart, Dave Grohl, LL COOL J, Bebe Rexha, Kehlani, Jeff Lewis, Helio Castroneves. A few selected SiriusXM DJs are also featured.
The thrust of the campaign is out-of-car listening, emphasizing that the service is available on the SXM app, via computer, and through smart speakers. Sirius' PR group sent us one amusing spot, in which Kevin Hart is coached by LL Cool J, Bebe Rexha, and Kehlani in how to hear his own show outside of his car:
"The Home of SiriusXM" campaign lets us shine a light on many of the talented people in our diverse roster of stars and personalities who create exclusive programming for SiriusXM and interact with each other in a way not found on other audio competitors," said Denise Karkos, Chief Marketing Officer of SiriusXM. "The campaign is built for the long run, and you will see more executions of it in the future with surprising pairings and appearances by our talent."
"The Home of SiriusXM" ad campaign was concepted by Translation, an independent creative agency. The ads will be placed online at Vox Nation properties The Verge, SBNation, and Vulture. An outdoor campaign will leverage billboards, subways, and airports in New York, Boston, and San Francisco. All Starting this week.
.