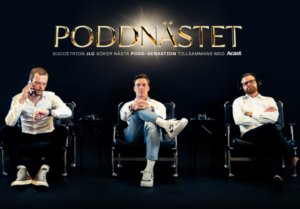 Swedish-founded global podcast company Acast has started Sweden's first podcast competition. The winner will collect what the founders call "a high-quality podcast production and marketing package" worth 250,000 SEK (Swedish kronor, worth about $29,000 USD. Official information is HERE.
Acast has seen an increased interest in content creation over the past year and today has 30,000 podcasts in its network. Through this national competition, Acast hopes to break new ground in the audio landscape by finding new and aspiring talents that can take a place on the Swedish top list Poddindex.
The competition  jury consists of representatives from Acast's marketing and content department, as well as the comedy trio JLC, starring Gothenburg's Lucas Simonsson, Jonas Fagerström and Carl Deman. Together with Acast, their podcast Mellan Himmel och Jord has grown to become one of Sweden's largest commercial podcasts.
Anyone over the age 18 based in Sweden can participate in Poddnästet, and participants can submit competition entries until October 29, 2021. The prize includes eight episodes produced and distributed by Acast, as well as content consulting by Acast's professional content team, and marketing of the winner's podcast at launch.