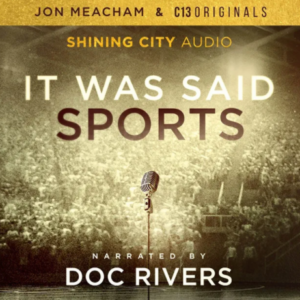 An award winning podcast franchise is expanding into sports, and here are the stakeholders: Jon Meacham, Cadence13, C13Originals, Shining City Audio, Audacy.
Here's the untangling:
Jon Meacham partnered with C13Originals (a division of Cadence13, which is owned by Audacy) to create It Was Said, a show celebrating great speeches in American history. This podcast followed the success of Meacham's breakthrough show Hope, Through History, a comfort-during-Covid podcast narrated by Meacham, which documented examples of perseverance in American history. Following those two shows, Cadence13 and Meacham partnered to form Shining City Audio, C13-embedded production initiative where Jon Meacham is co-executive producer, cementing his commitment to the podcast format.
Today, we learn about It Was Said: Sports, following the formula of discovering and showcasing great speeches — in this case, naturally, in the sporting arena. There'll be six episodes in this limited series, narrated by NBA legend Doc Rivers. Listeners will hear declamations by Muhhamed Ali, Billie Jean King, Hank Aaron, and more.
It Was Said: Sports launches tomorrow, September 8. (TRAILER on Apple.)
"Sports are a vital element of our lives, and of the life of the nation. The pursuit of excellence in competition is inherently dramatic and touches the deepest parts of our common story," said Meacham. "I'm honored to be working with the great Doc Rivers and the C13Originals team to bring these illuminating moments to life."
"As a man who's been in the arena, I've experienced firsthand the power and impact of the words of great sports figures of our time," said Doc Rivers. "I'm excited to join forces with Jon Meacham and C13Originals to shine a light on these pivotal moments in history."
"Throughout history, the powerful words of our great sports icons have transcended sports and inspired, healed, and impacted us as a world," said Chris Corcoran, Chief Content Officer, Cadence13 and Co-Executive Producer, Shining City Audio. "As we work alongside Jon to build out the Shining City Audio slate and tell these historic stories, we're proud to partner with Doc Rivers on this timeless series that will resonate with listeners of all generations." 
.