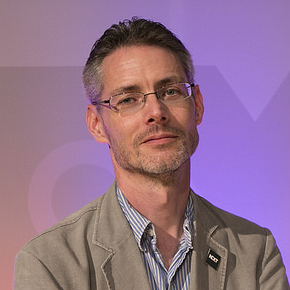 James Cridland, radio futurologist, is a conference speaker, writer and consultant. He runs the media information website media.info and helps organise the yearly Next Radio conference. He also publishes podnews.net, a daily briefing on podcasting and on-demand, and writes a weekly international radio trends newsletter, at james.crid.land.
---
In one long binge, I listened to Breaking Breakfast ▸, a really nicely-produced podcast looking back at the Chris Evans Breakfast Show on BBC Radio 1. (If you're not British – this was the archetype of a zoo-format show on a top 40 station).
I remember the show rather well, listening to it every morning on a commute to Hallam FM in Sheffield (sorry again, Daryl). The podcast – essentially, a 90-minute chat with the production team telling each other funny stories, broken into shows and mixed with a little archive footage – is a great listen: if a little bit of a strange listen, given the absence of Chris Evans himself. It only covers the Radio 1 era (probably for the best), but is required listening for fans of the show.
A mostly-positive listen about the show, and it left me feeling a little melancholy that we'll not have that kind of listen again. But, as Holly Samos aptly says at the end, she's often asked if she'd do it again, and her answer is… "no, because it had to be the mid-90s. It was the stars aligning: the music, the sport, the people".
In short, it was more than just a great radio show. And, in one of the "radio was better in the old days" Facebook groups that I'm in, it's often forgotten that the radio you remember from twenty-five years ago was also a product of the life you were having twenty-five years ago, and of the general media landscape at that time.
Interesting to hear that one of the things that derailed Chris Evans was listening to Howard Stern and trying to emulate Stern, instead of just being Chris. Many shows fail because their management want them to be something that they aren't; in this case, it sounds to have been Danny Baker mistakenly giving Chris some audio from Stern, while not being specific about what Chris might learn from it.
Anyway, if you enjoy it, you'll also enjoy Hamish & Andy's Remembering Project ▸ from the former Australian radio hosts. Plenty of behind-the-scenes chat here, too – and even if you're not familiar with the show you'll get a lot out of it.
.
---
It's absolutely not (that) necessary, but if anyone wants to support my work in any way, you can BuyMeACoffee – become a member to give regularly or just give a one-off coffee if you'd like to support me in some way.
.