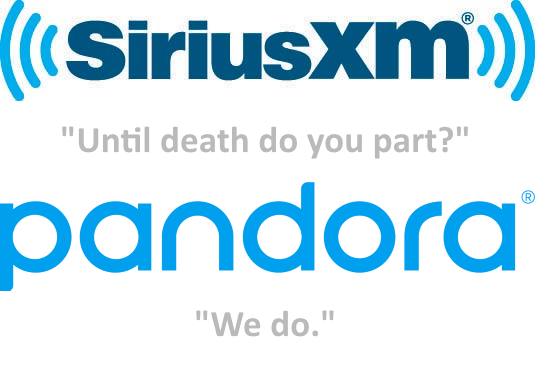 As predicted in this week's Sirius XM earnings call for Q4 2018, the Sirius XM acquisition of Pandora closed today. Pandora is now a wholly owned component of the satellite broadcaster.
Synergies (the often misused merger buzzword, but definitely applicable here) abound. In the earnings call, Sirius CEO Jim Meyer had things to say about Pandora, and was explicit in laying out broad strategic thoughts.
"Needless to say, our combination with Pandora completely changes the game and gives us vastly more scale outside of the car in a way that we think is completely complementary to our existing efforts at Sirius XM," Meyer stated as an introductory talking point. "Together, the Sirius XM and Pandora brands are uniquely positioned to lead a new era of audio entertainment by delivering the most compelling subscription and ad-supported audio experience to millions of listeners in the car, at home and on the go."
The Org Chart
On the executive shake-up which RAIN News reported earlier this week, and the ejection of leadership which included ex-CEO Roger Lynch from Pandora, Meyer said, "I've made a decision to immediately consolidate the G&A functions and have the business units report directly to me. My goal is to streamline decision-making, increase the speed of integration and manage the businesses holistically from day 1. These things are never easy."
Meyer noted his deep respect for Roger Lynch, and called his Pandora leadership "masterful."
Complimentary Positioning
The Sirius chief executive observed that Pandora's out-of-car audience complements the strong in-car positioning of Sirius XM. His eye is on cross-marketing, and a two-way funnel for monetizing across those two audiences. "
"There are strong prospects for cross-promotion across our combined North American audience. Quite simply, I'd like to monetize at some level every single one of the close to 23 million Sirius XM trials we are running annually. Over the next decade, the vast majority of Americans will have experienced one of these trials, and I am thrilled to now have a complete stack of compelling offerings to offer consumers, from paid to free."
Data & Marketing
He likes Pandora's data too, merged with his company's understanding of listener behavior, for optimizing how people want to listen. The total Sirius XM audience is now 103-million active listeners. Meyer said this: "Approximately half the owners of the Sirius XM-enabled vehicle fleet have used Pandora in the past 2 years. This is incredibly powerful. Data from Pandora can significantly improve our understanding of these users' preferences and behaviors when it comes to music listening."
Meyer offered a glimpse of the two-way marketing that will start happening, as early as this month. "In early February, we will begin a targeted promotion to Sirius XM subscribers and Pandora listeners. Select Pandora listeners will receive an offer to obtain a unique $5 a month mostly news — mostly music or news talk package in their satellite-equipped vehicle. Sirius XM subscribers will also receive an extended 14-day trial to Pandora Premium."
We are uncertain how a 14-day trial of Pandora Premium can be called "extended," but the point stands that Sirius is in a masterful position to increase the commitment and spending of both audience groups. And that $5/month Sirius XM subscription to news and talk is pretty interesting.
Pipeline Products
There's more, including product development of a Pandora channel in the Sirius app that he describes as personalized to the user, plus a radio channel driven by broad Pandora listening trends. "By midyear, we expect to deliver a new Pandora-powered channel to our Sirius XM app users based upon their favorite artist and a new radio channel, driven by the latest trend from Pandora's billions of thumbs."
And, of course, Meyer expressed the patented Sirius self-confidence. "We have an excellent track record of performance at Sirius XM. We focus on having the right strategy and business plan and then executing that against that plan."
So there.