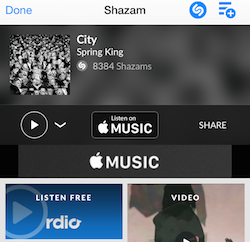 Shazam and SoundHound have been making some speedy updates behind the scenes in light of the new Apple Music launch. Yesterday, Shazam announced the addition of artist profiles that share what popular performers are tagging. The app automatically sets you to follow artists who you have previously identified with the service. Shazam also added integrations with Apple Music, which is the top box that appears when you've tagged a song with a suggestion to listen on a streaming service.
SoundHound quickly caught up on the integration side, announcing the addition of a "Listen Now" link to Apple Music. The app will also run advertisements for the Beats 1 radio station on song pages.
Both of these rival apps have additional streaming integrations, and recently each of them has been expanding their core businesses beyond audio ID. Shazam has added a visual recognition component and SoundHound is working on a voice-activated personal assistant.