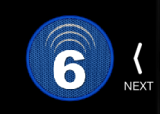 Mobile music app 6 Seconds has been updated, marking version 2.0 of the original app which was launched in April.
The new 6 Seconds experience has been augmented with more genres and 10,000 new radio stations. A timely and seemingly playful addition to the station array is FreeBeats1: "FreeBeats1 monitors Apple's Beats 1 station and plays the same tunes but without the disruptive DJ banter," according to the press release. "Unlike Beats 1, it does not require an iOS device or registering with an AppleID to listen. Any Android or iOS user can listen and no registration is required."
Of course, the "disruptive DJ banter" is, in Apple's perspective added value, representing the company's investment in star host Zane Lowe and other DJs. But stripping music from surrounding talk is one purpose of 6 Seconds, while making the global scope of radio music an interactive, on-demand experience. You can search by song, artist, or genre — the app scours everything playing on radio at that moment, across its vast spectrum of terrestrial and online stations.
6 Seconds can be seen as a new spin on semi-interactive free-listening service, leveraging a unique technology platform to find a song wherever it's playing. It treats radio music as a giant installed library of songs, available in real-time as they are being played. At the same time, the app functions as a radio-station discovery environment, where users can discover new radio stations and save them to a collection of favorites.
New usability enhancements in the upgraded app include swipe-to-skip, and unlimited skips are supported.
The 6 Seconds app was a finalist in a startup showcase competition at RAIN Summit West in Las Vegas.