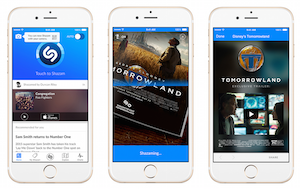 CEO Rich Riley said at the start of the year that Shazam would make pushes into more than audio, and to that end, the company has rolled out a new visual component for its mobile app. The software made its reputation for the ability to recognize and identify songs; now it can also scan for an image. Scannable material will have a Shazam camera logo or the more common QR code. The update is for apps on both Android and iOS devices.
Shazam also isn't the first to incorporate this visual capability. Amazon also has image recognition in its mobile app. These moves are creating a more elaborate web of consumer activity centered around smartphones. It makes sense that Amazon, digital retailer extraordinaire, would want to give people more chances to price-compare, but what's Shazam's end goal in expanding beyond audio?
For starters, it's bringing in some high-profile partnerships. Disney, HarperCollins, Conde Nast, Hearst, and Time Inc are just some of the businesses helping to launch the new Shazamable images. These new partners and new features could be serving to reposition Shazam as more than a music company, adding a specialization in the technology that connects our digital, mobile, and analog experiences. It's possible that it wants to become a tech brand with the same degree of ubiquity as Amazon.