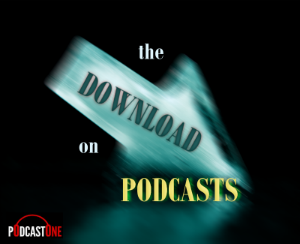 The Download on Podcasts is a weekly feature sponsored by PodcastOne.
---
The Peabody Award bestowed on Serial is a culmination for the show's creators. Awarded for excellence in storytelling, this Peabody also emblemizes the impact Serial has had on podcasting — and the perception of podcasting.
Serial first grabbed headlines when it generated five-million downloads via iTunes faster than any program before it. That feat put "podcasting" into a wider vernacular than ever in the genre's 10-year history. Furthermore, it brought new audience into the podcasting category, crossing over from public radio where the show was promoted. Many of those immigrants from radio probably clicked on-demand content buttons for the first time, navigating over speed bumps that still make podcasting a bit painful in the ever-important ease-of-use department.
The media loves it some Serial — every day and every article about a podcasting resurgence in the last six months. Too much credit? Not according to Norm Pattiz, founder and CEO of PodcastOne, (sponsor of this column), who spoke at RAIN Summit West on April 12. "Podcasting owes Serial a debt that can never be repaid," he said.
Granted, but a six-month continual buzz about Serial makes it seem as if Podcasting should be renamed Serializing. For all that Serial has done for podcast awareness and audience activation, it's time to tone down the worship and focus on the values of on-demand content that can, with good fortune, sustain audience growth for a long time to come. If Serial is the Babe Ruth of podcasting, changing the game forever, the point is still the game and its many players.
Serial was an event and a catalyst, but not (yet) a sustaining factor. It is produced in seasons, which is unpodcast-like and, honestly, rather weak when compared to podcast heroes who crank out weekly programs week in and week out for years. (Check out The Dawn and Drew Show, in its 11th year with 1,058 shows.) And Serial benefited from massive radio promotion, produced by This American Life, which itself is frequently the #1 podcast in the iTunes chart. So — again with the Babe Ruth analogy — Serial plays for the Yankees.
Nothing wrong with any of this, of course. Success breeds success. And podcasting is a great opportunity for radio to re-purpose its programming and talent for online distribution and on-demand access. But a hopeful part of the genre's promise is original online-only programming, and emerging talent attracting audience share. The most exciting items in podcast hit charts are the sudden movements of new, less-known shows — like Masacote con Chente Ydrach, Farstuff: The Internet of Things Podcast, Eddie Bravo Radio, and many others that are upwardly mobile on Stitcher's top-100 list.
The podcast resurgence is much more than Serial, more than most write-ups acknowledge. According to Edison Research, podcast listening has grown by double-digit percentages in each of the past two years. Weekly listening went up 25% from 2014 to 2015. Podcast listeners over-index for time spent listening. On-demand audio will always benefit from hit programs, but more broadly from high-bandwidth mobile which powers consumption in dayparts and environments recently unlocked by technology. In 2015, 55% of podcasts are heard through phones, tablets, and iPods.
Serial did its part. An important mile-marker, it is receding in the rear-view mirror of podcasting's forward motion. At least, until its second season.