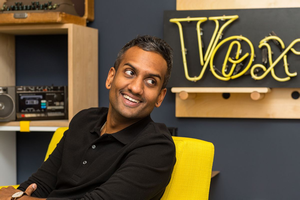 This is Sean Rameswaram, host of the news podcast Today, Explained, giving some feels about his promotion: ""Eight hundred episodes in, I couldn't be more thrilled to have finally been promoted to co-host of Today, Explained." His tongue-in-cheek announcement hides the main story: He is now Creative Director of Vox Audio, a division of Vox Studios. His reduced role from host to co-host in Today, Explained will give him room for his larger purview in the organization.
The announcement comes before Vox has decided on Sean's co-host; there is a job opening for that gig, and listings for an Editorial Director of News Audio, and Editorial Director of Explanatory Audio.
Today, Explained started up in 2018. As an answer to the glut of mornings news podcasts, Today, Explained drops in late afternoons. In length and style, we hear it as a late-day counterpoint to The Daily.
"When we brought Sean in to help us launch our flagship daily news podcast, we knew he had the perfect blend of curiosity, humor and wild creativity to make a show uniquely suited for the Vox audience. Sean has been instrumental in defining Vox's approach to our daily news show and I am thrilled to watch – and listen – to what his creative mind can do with even more projects at Vox," says Vox VP Allison Rockey.
"With Sean transitioning into his new role and two new very focused editorial directors, we'll be positioned to deepen and grow our work even more," said another Vox VP, Kelly Nelson. "I can't wait to get started. These investments in our future speak to Vox Media's commitment to audio and what we've built here at Vox."
.