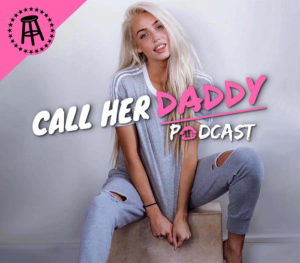 "You wanna know who we're crawling into bed with this time? […] We are now officially in an exclusive relationship with Spotify."
That was Alex Cooper, host of the orgasmic podcast Call Her Daddy, announcing the business deal which sees spotify taking ownership of the show, ripping it away from Barstool Sports for a reported $60-million. [Announcement Episode HERE.]
The exclusivity kicks in July 21; on that day and thereafter the show will be heard on Spotify exclusively and without charge. In its announcement, Spotify asserted that the podcast (which was carried on the platform but not exclusively, so could be heard everywhere else), was the fifth most popular podcast streamed globally.
Before this season the show was co-hosted by Cooper and Sofia Franklyn. A falling-out of the two, while negotiating with distributor Barstool Sports, led to a break up. Franklyn now pilots her own show, Sofia with an F.
According to Chartable at the time of this post, Call Her Daddy was #61 on Apple's U.S. list (and #6 in Mauritania, to pick a random region).
Last month Spotify grabbed Armchair Expert with Dax Shepard for an exclusive starting July 1.
.