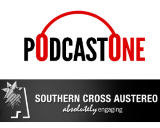 Australian broadcaster and entertainment company Southern Cross Austereo recently released its annual report. Although the financials did show a downturn, CEO Grant Blackley gave an interview delving into more details of the report's bright spots. DAB and podcasting were among those highlights.
"We own half of the commercial DAB spectrum, so that allows us to create two brand families… we are aggregating the audience," he said. "We have 12% more audience available to advertisers than last year in a brand safe environment."
SCA also operates the PodcastOne brand in Australia, and the report showed positive notes for that department. Since it launched in August 2017, PodcastOne has generated 45 million downloads. "Last year was about developing our position," Blackley said. "The platform has now been validated."
SCA will continue to develop its podcast sales team, after beginning to sell ads on its shows in January. The company anticipates having a single advertisers per podcast.