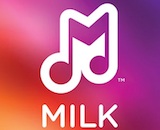 Never a dull moment with music service Tidal, and companies associated with it. We reported on February 26 that Samsung might be nosing around Tidal for an acquisition, a rumor that was in motion since October, when Tidal chief executive Jay Z visited the tech company's offices. Even before that, Tidal and Samsung were affiliated in the exclusive album release by Tidal artist-owner Rihanna.
Now Variety, which is keeping a firm grip on the Tidal rumor mill, says that Samsung has denied interest in gobbling Tidal, which Jay Z purchased for $56-million. An unnamed Samsung spokesperson told Variety, "The rumor of Samsung acquiring Tidal is not true."
At the same time, though, Variety's sources say that a shut-down of Samsung's Milk Music, an Internet radio platform powered by Slacker, is "likely." Milk Music was launched nearly two years ago on some of Samsung's phones. The idea was to provide an attraction and added value to Galaxy phones — with one possible problem being that Milk was not differentiated in a substantial way from other listening apps (e.g. Slacker itself or Pandora) available to Android phone users. Outside of Galaxy phones, anyone can listen to Milk Music on the web. However, at the time of this post, we could not get the web interface to work.