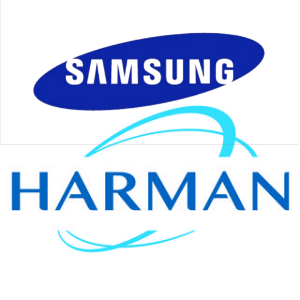 In a startling announcement, Samsung Electronics revealed that it will acquire Harmon International for $8-billion. The strategy targets the car as the next milestone mobile device. Harmon is best known as the builder of car audio systems (JBL and Harman/Kardon brands).
"Upon closing, the transaction will immediately give Samsung a significant presence in the large and rapidly growing market for connected technologies, particularly automotive electronics, which has been a strategic priority for Samsung, and is expected to grow to more than $100 billion by 2025," according to the Samsung press release. the announcement notes that Harman technology currently lives in 30-million connected cars. It's all about audio — Harman equipment embodies telematics (data transmission across distances) and connected safety features.
To some extent Samsung is also buying relationships, as Harman deals with a global portfolio of carmakers. In a car tech world whose headlines are currently dominated by Google and Apple attempting to wedge into the car's center stack, Samsung/Harman represents a potential new Goliath.
"HARMAN perfectly complements Samsung in terms of technologies, products and solutions, and joining forces is a natural extension of the automotive strategy we have been pursuing for some time," said Oh-Hyun Kwon, Samsung CEO.
As we have often noted in RAIN News, cars with digital dashboards are increasingly resembling smartphones, with Google and Apple dealing with automakers to allow their dashboard operating system to control the driver's phone. While the effect of the transition from analog to digital in the car's infotainment system is muted by the slow churn of the American car fleet (about 12 years old on average), it is an easily predicted shift. Hence, Samsung's eagerness to accelerate its existing automobile focus.
Outside of the car, Harman's audio brands also synergize with Samsung's range of consumer electronics for the home. In addition to JBL and Harman Kardon, Harman audio brands include AKG, Mark Levinson, Lexicon, and Infinity.