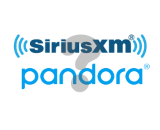 We've been hearing speculation for many months that Pandora and Sirius XM are interested in building a closer relationship. Sirius XM has been rumored to want to acquire the online audio company, but the two parties have been at odds over price. New information from the New York Post's Claire Atkinson indicated that if Sirius does back away, Pandora might have another interested suitor.
Atkinson's sources said that if Pandora doesn't reach an outright sale this week, Verizon is reportedly considering a possible investment of $100 million in the audio company. If that investment moves forward, Verizon executive Tim Armstrong could find himself with a seat on Pandora's board of directors. However, the sources claimed that Verizon is not currently interested in a full acquisition of Pandora.
"There is a very high likelihood that something happens in the next week to 10 days but you just never know with Greg Maffei," one source told the Post. "It makes sense for everybody. Its 60 percent to 65 percent it happens."
Pandora has another possible reason to make some progress this week. Private equity firm KKR has also voiced interest in putting money into the music business, reportedly saying that it would invest $150 million in Pandora if the Sirius deal falls through. Pandora stated that the KKR investment would close no sooner than Thursday, June 8. Whenever that deal does close, if it does, it is feasible that Verizon could make an investment alongside KKR.