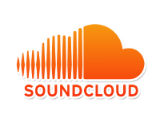 The New York Post's Claire Atkinson has put SoundCloud back into headlines. The streaming platform has been rumored as a sale target for months on and off. The Post is now reporting that "a host of players" are currently interested in taking over the company. Sources have most recently pointed to Deezer and Apple as possible buyers, with private equity firms also allegedly in the running. Based on the latest unnamed source reports, Deezer appears to be the most serious possible bid.
"Deezer is making a serious run," an unnamed senior music source told the Post. "There will be a lot of consolidation, if you are Deezer or Spotify. SoundCloud's massive user base — one that is melting as it grapples with a shrinking pile of cash — lets you convert."
In the past, SoundCloud had reportedly been seeking a sale price of about $1 billion. As it has faced an uphill battle in some areas of monetization, Recode reported that the potential price has dipped to $700 million or less. Spotify and Google were the purported buyers at different points, but those talks seem to have gone quiet.
SoundCloud has been in flux for some time now. The platform announced several personnel changes in recent months, including the departures of David Noël and Stephen Bryan.