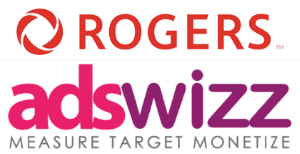 Diversified Canadian media company Rogers announced its commitment to programmatic audio advertising, and has selected AdsWizz to provide technology for ad insertion, ad serving, and yield optimization. AdsWizz will also contribute its Demand Side Platform (DSP) to the collection of buy-side platforms on which Rogers will offer inventory.
The agreement embodies a specific product launch from Rogers: dynamic ad insertion (DAI, in Rogers' abbreviation) for the live and on-demand streams of Rogers radio stations. Rogers notes that it is the first Canadian media company to use ad insertion. The company says that using data and targeting to inject ads to receptive users can "unlock the true power of digital listening."
The entire AdsWizz platform is involved in this broad tech launch. Components include AIS, the AdsWizz market-leading ad insertion suite; AudioServe, the AdsWizz audio-centric ad server; and AudioMax, the AdsWizz SSP that provides holistic yield optimization designed for audio. AudioMatic is the DSP, which sits alongside TheTradeDesk, MediaMath, AppNexus, and Adobe as platforms used by advertisers to plan and execute campaigns.
Rogers operates 55 radio stations across Canada.