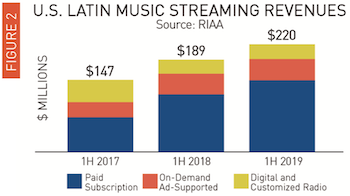 The RIAA has released its mid-year report on the Latin music market in the U.S., and the genre is on track for continued growth through 2019. In the first six months of the year, the sector generated retail revenue of $232 million, up 13.5%. Streaming revenue increased 17% to $220 million, further expanding its already massive share of the revenue total from 93% in 2018 to 95%.
Within the streaming revenue figure, paid subscriptions generated $146 million, up 25% on-year. Subscriptions are responsible for two-thirds of the streaming revenue generated by Latin music.
Ad-supported streaming only edged up 4% for revenue of $44 million during the period. Direct license services and SoundExchange distributions also rose 5% to $30 million. These two sources combined secured a 32% share of the total Latin music market, which far outpaces the comparable share of 18% from ad-supported streaming and direct licenses across the whole U.S. music market during the first half.
Physical sales for Latin music continued to shrink, as did digital downloads. The combined revenue from those segments reached only a 4% share of the total U.S. Latin market.
"The U.S. Latin music market is continuing to flourish, building on the last three years of double-digit growth," RIAA Chairman and CEO Mitch Glazier said. "Latin music is attracting a diverse and growing global audience, and rightfully so. Latin artists continue to claim growing representation on the mainstream charts and gain in critical recognition, as greater numbers of consumers are embracing Latin music and driving more consumer demand for it."