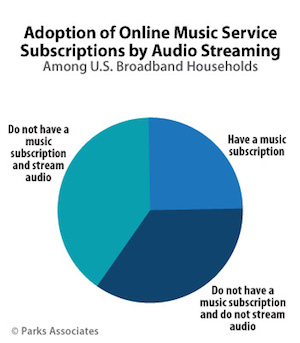 Parks Associates conducted market research into the connections between broadband Internet and streaming music. The results showed that of the 97.64 million U.S. households with broadband access, 66% use a streaming audio service. That figure could grow as more home audio technology adapts to keep up with the shifting preferences to digital music. "Advances in wireless streaming technology and a resurgence of interest in hi-resolution audio will stimulate consumer demand for Internet-connected audio devices," said Brad Russell, a Parks research analyst. He said the combined global sales of wireless speakers, multiroom audio systems, and soundbars could reach $26 billion annually by 2020.
That sector has been generating significant news over the course of this year, with many of those tech companies partnering with streaming services for niche promotions. Sonos CEO John MacFarlane penned an article about how his company is seeing a growing percentage of home speaker use going to streaming. And the launch of other music-specific products such as Google's Chromecast Audio points to a strong interest in home listening as a revenue source.
The survey also examined the free/paid breakdown. Of all respondents, 40% said they stream on a free service, and 26% use subscriptions. Amazon Prime Music was the top choice for those households with paid music tiers at 10%. Pandora One held 6%, Spotify Premium and Sirius XM got 4%. Parks simply asked respondents which services they subscribed to, but not how much they use them. It didn't break out preferences among the free streaming services. Prime Music may be the top dog because it is part of the bigger Amazon Prime membership, which offers additional perks besides the music platform. Just as many streaming services have turned to deals with mobile carriers and telecoms, it's possible that treating music as part of a bigger subscription package could make it a more attractive deal for customers.