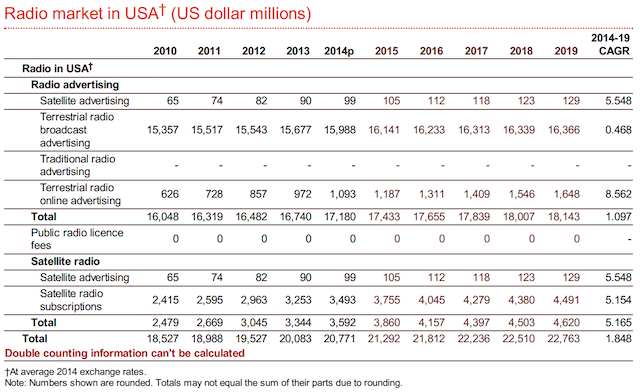 Pricewaterhouse Coopers released a report about the media and entertainment markets. The research in PwC Global Entertainment and Media Outlook 2015-2019 covers both the radio and music market segments.
The report found that radio had total revenue of $20.67 billion in 2014. U.S. radio advertising in the year was $17.18 billion, and it is projected to increase at a compound annual growth rate of 1.097% for the period between 2014 and 2019. Although terrestrial radio usage in the U.S. is still high, online listening has increased. Research from Triton and Edison found that 36% of Americans older than 12 listen to online radio weekly. That rate more than doubled from 17% in 2010.
The report also noted the challenges broadcasters have in monetizing their online audience, including listeners who hat use ad-blocking software.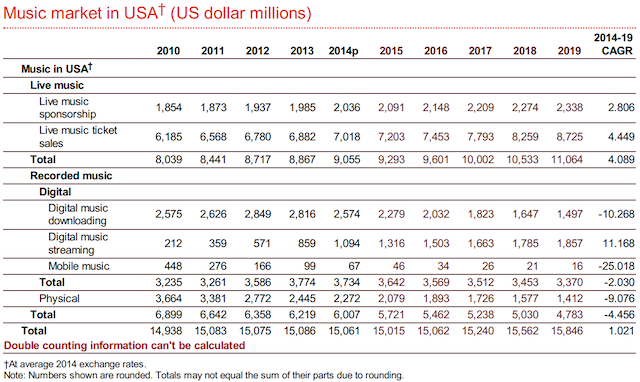 The U.S. music industry was valued at $15.06 in 2014 (including concert revenue) and the total recorded music revenue was $6.01 billion. The latter number comes in lower than the RIAA's $7-billion assessment of the U.S. record industry in 2014.
Digital revenue fell from $3.77 billion in 2013 to $3.73 billion in 2014. All streaming services posted a 27.3% increase in revenue over 2014 to $1.09 billion. According to the report's prediction, streaming revenue is projected to exceed revenue from downloads in 2018. In 2019, streaming is slated to account for 55.1% of digital recorded music revenue.
PwC's report on the music segment echoed the results of other industry research, noting declines in sales of physical music. PwC projects physical sales to have a -9.076% (negative) compound annual growth rate.