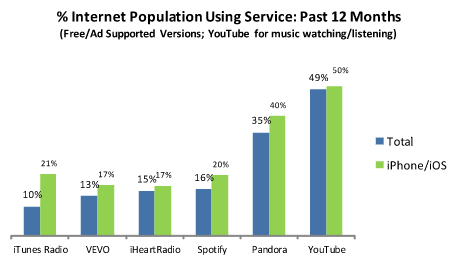 Research company MusicWatch publicly released data points from its Annual Music Study, measuring relative popularity among leading streaming music outlets YouTube, Pandora, Spotify, iHeartRadio, VEVO, and iTunes Radio. The timing anticipates Apple's expected announcement of its new on-demand music platform, rumored to be called Apple Music, a re-branding of Beats Music, which Apple acquired a year ago.
MusicWatch's survey data breaks out brand popularity by iPhone/iOS users. Through that lens, iTunes Radio fares better (21% popularity) than across the entire survey sample (10%). YouTube garnered the highest popularity ranking — about 50% for both sample groups.
The data and accompanying graphic make the point of a crowded and competitive landscape in which to launch a new (to most people) service. iTunes Radio accounted for five percent of listening hours among the services MusicWatch used. Additionally, 75% of iTunes Radio users also stream music from YouTube. Both those options are ad-supported, free of charge to the listener.
"Getting consumers to pay for subscriptions has been challenging, but Apple has some  advantages, with a database of customers, a healthy gift-card business and the potential of Apple Pay," said Russ Crupnick, CEO of MusicWatch. "Based on the success of iTunes Music, iPod, iPhone and iPad, Apple is superb at teaching customers the benefits of new technology. When it comes to streaming, however, Apple needs to offer a vision of why a paid subscription makes sense, in a world already cluttered with free options."
In September of 2013, Apple launched iTunes Radio in what was widely and prematurely proclaimed as a "Pandora-killer." No homicide occurred, though, disproving in at least one case that Apple's distribution power via iPhones does not necessarily result in high market share. the launch of Apple Music (or whatever it will be called) is another test, but with two differences. first, the reportedly subscription-only service will compete with other on-demand services (e.g. Spotify, Rhapsody) more directly than with Pandora. Second, Apple will extend the app distribution to the Android platform, where some Beats Music subscribers already live.