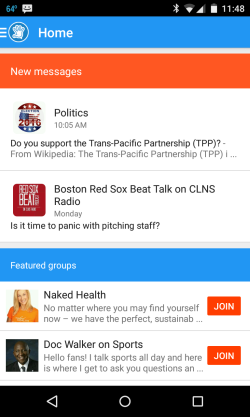 Audience engagement platform Reacht won the startups challenge featured at RAIN Summit West in Las Vegas on April 12. In a showcase called Streaming Audio's Startup Economy, four early-stage companies demonstrated their products/services, and vied for audience votes for favorite startup. The four startups — Reacht, Nobex, 6 Seconds, and Spoken Layer — were finalists in a pre-Summit "call for startups" competition to participate in the showcase.
We spoke to Reacht CMO Dan Morrison about the experience. He expressed respect and admiration for the other showcase startups. "We love Spoken Layer and Nobex, and I think Michael Robertson's 6 Seconds app is onto something awesome."
Of the online voting process which happened immediately following the showcase demonstrations, and which could be tracked in real-time, Morrison said it was nerve-wracking: "It was a mad dog fight. We were up two percent, then down five percent, and finally won by three percent."
Reacht is a real-time social media platform for streaming audio and podcast publishers. Program hosts and producers can launch questions to listeners, and receive responses which can then be integrated into the program as the dialogue happens. Simple polls are one natural implementation. In the app, users join Groups which cluster around individual programs, and can view all the questions.
Morrison told us that over 100,000 questions have been placed on the platform, generating over 32,000 responses. "That engagement rate, over 30%, compares with Facebook's engagement rate of less than one percent," he said. High interactivity persists across locations and programming categories, according to Morrison. "There is high engagement for a political talk show in a Chicago suburb, a sports program in D.C., and a country station in Tupelo, Mississippi."
Dan Morrison said that exposure in the RAIN startups challenge generated new contacts and conversations. "We're now in conversations with app developers which serve the online audio industry, to integrate Reacht," he said. "Winning the RAIN award gave Reacht instant credibility."