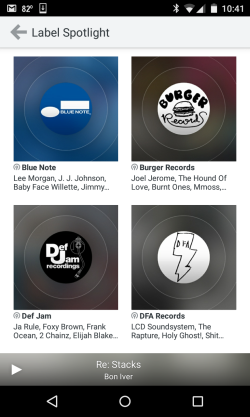 Rdio has added new label stations to its existing category, with additions appearing in various localized editions of the Rdio app.
Label stations are promotional playlists that highlight small and medium-sized label artists, and are curated collaboratively by Rdio music experts and label personnel. They offer interesting targeted listening, as with the Verve label station for jazz lovers, and, of course, promotion for the labels.
The station arrays differ by region, localized to the label's target audience. For example, Biscoito Fino is in Rdio Brazil, but not in the U.S. app. New additions for U.S. listeners include Barsuk Records, Blue Note, Burger Records, DFA Records, Frechkiss Records, Glassnote Records, and Ultra Records.
"We are proud to partner with key influencers and the label community to program their own branded stations," said CEO Anthony Bay. "These stations not only help extend each labels' brand presence but they also let our listeners anywhere in the world discover music from credible brands that they trust and respect."
At RAIN Summit West in April, Anthony Bay announced Rdio Live, an upcoming new app category that will feature broadcast radio streams.