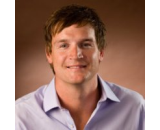 Pushing forward the digital initiatives that complement its vast over-the-air holdings, iHeartMedia has hired veteran media executive Carter Brokaw as President, Digital Revenue Strategy. Brokaw will report to iHeart's head of sales, Tim Castelli.
Carter Brokaw was VP of corporate sales at CNET for ten and a half years, leaving that company in 2007. Since then, he has pursued a wending career taking him through Warner Music Group (VP, Digital Media), Meebo (Chief Revenue Officer), Slacker (Chief Revenue Officer), and Guardian News & Media (EVP, Sales).
Brokaw's role at iHeart is described as both operational and conceptual — driving revenue through existing digital channels and developing new strategies. "At iHeartMedia I'll have the opportunity to use our rich and unique data and unparalleled reach to partner with advertisers to create breakthrough programs that re-imagine traditional radio as a new and robust digital platform," he said.
Brokaw will also connect with iHeartMedia's new programmatic venture, led by Brian Kaminsky. iHeart is partnering with Jelli's technology platform to offer programmatic buying of its nationwide on-air ad inventory.