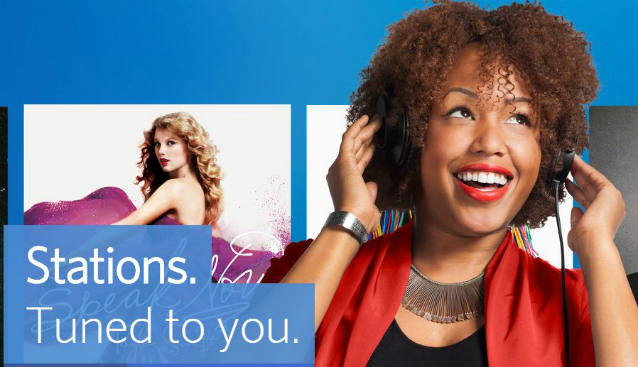 In a culmination of recent business developments, music service Rdio updated its apps and refocused its experience to emphasize free, ad-supported listening as a complement to its on-demand subscription service.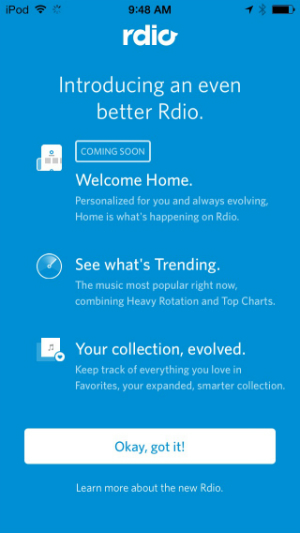 The revised product line fulfills Rdio's promise to open an ad-supported, free-listening line of business, as expressed by Cumulus CEO Lew Dickey in an April earnings call. Cumulus and Rdio are tied together with an equity agreement in which each company leverages advantages provided by the other.
On the programming side, Rdio's acquisition of TastemakerX provided a layer of music intelligence that powers the algorithmically programmed radio listening. TastemakerX replaced The Echo Nest, Rdio's previous music-tech provider. When The Echo Nest was bought by Spotify, Rdio was one of the first of The Echo Nest's many clients to separate from its deal and seek alternate programming assistance.
So, with Rdio 3.0, the online radio portion of the service is finally off and running, and Rdio joins Spotify as a full-featured listening platform where free listening functions as an on-ramp to a $10 jukebox subscription that provides on-demand access to a giant catalog and downloading for offline listening. Subscription plans disrupt the record industry as consumers replace music purchases with music access. Radio-style listening seeks to disrupt the broadcast radio business, with Pandora unabashedly leading that attack.
As always with Rdio products, the new apps are visually gorgeous. In testing, we did encounter a few problems, the most serious being the updated Android app on a Nexus phone which would not open.
On the iOS side, we found fairly good navigation, exceptional graphic design, and good listening.
Selecting an artist or song launches a dynamic station. The usual up-down voting is available, but no liking or saving feature. We evaluated curation with blues-rocker Walter Trout — our standard comparative test. We heard a standard rotation of guitar-based blues tracks, enlivened by some new surprises.
We found Cumulus' "NASH" brand of country radio represented in Rdio with a "NASH FM on Rdio" station. It's a playlist, not a livestream.
During our listening we eoncountered a light but steady ad load. The Home Depot made an appearnace (it seems to be everywhere), and Macy's.
When we first opened the 3.0 app, a splash page promoted a new Home screen, which purports to offer customized listening based on Rdio's knowledge of the user and the user's social network. It was "Coming Soon," and indeed, we did not find Home in the main navigation list. We look forward to incremental app updates in the future.