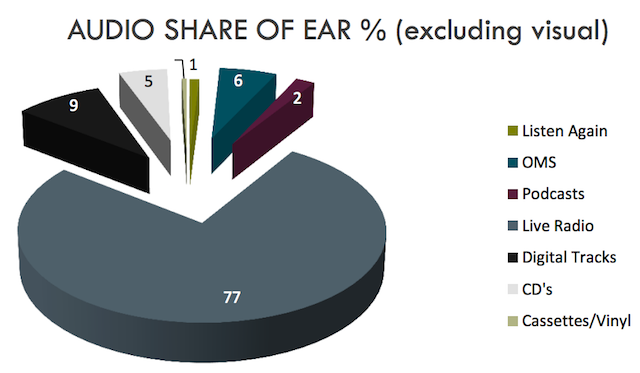 We covered the initial release of RAJAR data about fourth-quarter radio behavior in the UK, but the organization also tracks information about online-focused listening. The Measurement of Internet Delivered Audio Services (MIDAS) data released for autumn 2015 reveals additional insights into online radio and audio habits for UK listeners. Live radio holds a 77% slice of the share of ear figures. Digital tracks secured 9% and podcasts took a 2% share.
MIDAS took a deeper dive into podcast listening, which secured 3.7 million listeners in the most recent survey. Follow-through for the format is solid, with 62% of all downloaded podcasts listened to. Smartphones are the platform of choice for podcasts with a 57% share of listening hours. Laptops and desktops secured 16%. The final point of interest from the podcast analysis is how many listeners give that audio format their complete focus: tuning in while relaxing or doing nothing else in particular had 34% reach and 19% of podcast listening hours. Travel was another top choice, with 42% reach and 33% share of hours.
In radio consumption, nearly half (42%) of the UK population has downloaded a radio app for a mobile device. Of that 22.4 million people, 4.2 million are aged 15-24 and 5.1 million are aged 25-34. Among those app downloaders, 52% use the mobile program at least once a week.
Online radio also has more flexibility in offering 'listen again' options, which 4.3 million UK adults take advantage of. Forty-two percent of listen-again activity is done on laptops, followed by tablets at 23% and smartphones at 17%.
The MIDAS results are taken from 2,326 re-contacted main RAJAR survey respondents. The fieldwork occurred in November 2015.