The fifth annual RAIN Podcast Business Summit played on Zoom to a large virtual audience today, presented by iHeartRadio, Stitcher, Triton Digital, and founding partner NPR. Other sponsors supporting this event were Megaphone, AdsWizz, WideOrbit, and AccuRadio. In a compact 3.5-hour schedule, 22 speakers held forth on the business side of podcasting.
James Cridland (Editor, Podnews), who was MC at last year's Podcast Business Summit in New York, chatted with Bryan Moffett (COO, National Public Media) in a shop-talk conversation rangin across many subjects. "One result of Covid is that podcasting has revived the QR code," Cridland observed interestingly. When asked about Spotify's recent waterfall of announcements, he joked that the company might reconsider the wisdom of issuing an entire year's worth of business planning in one day (which we rather agree with). Which of those announcements was the biggest? Cridland though the international expansion — "eighteen new countries, one-billion people," was the most tectonic.
"I give Clubhouse six more months." –James Cridland
Conal Byrne (CEO, iHeartMedia Digital Audio Group) moderated a lively panel that included Matt Frederick (Executive Producer and Co-host, Stuff They Don't Want You to Know) and Alexander Williams (Executive Producer and Host, Ephemeral), with his trademark concise and direct questioning style. iHeart's #d binaural podcasting initiative got a lot of focus. (See RAIN's coverage HERE.)
"We wanted to do something that would sound great, and also freak people out … especially in the horror genres," said Williams with amusing honesty.
Matt Frederick reminisced about a theme park ride when he was young which used speakers built into the seat back, creating a spectacular audio effect — that started his nearly lifelong passion for 3D audio. The group discussed the technical gear needed to produce binaural, 3D audio imaging. There was a comparison to how people hear noise in the real world — "we have omni microphones built into our ear canals. We are utilizing how the human ear takes in sounds."
Stephanie Donovan (SVP Publisher Development, North America, Triton Digital) presented "The Growth of Podcast Listening and its Impact on the Business of Podcasting" — a slide show full of metrics culled from Triton Digital and its Omny Studio podcast subsidiary.
Below is one of the many slides that caught our keen interest, illustrating when podcasts in different genres get listened to: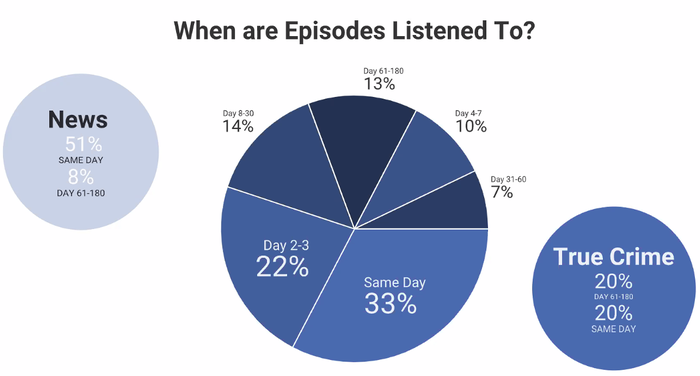 On this topic, Donovan spoke of "the shelf life and multiplying effect." Comedy podcasts have the longest shelf life of all categories, she said.
On the subject of programmatic advertising for podcasts, a campaign format evangelized by both Triton Digital and Omny Studio, Donovan said that programmatic continues to be a contributor to podcasting, and CPMs are rising. "Programmatic is NOT a race to the bottom in CPMs."
"A Candid Conversation on Diversity in Podcasting Leadership: Going Beyond Content and Getting Down to Business" was presented by Kameel Stanley (Executive Producer, "Witness Docs" on Stitcher), Eric Eddings (Podcast Host & Producer & Creator, "The Nod" and "For Colored Nerds"). Eddings held forth with enthusiasm, passion, and a tremendous well of experience. (See The Nod in Apple HERE.) Kameel Stanley did most of the questioning, but also contributed personal thought leadership:  "There is a dire need for representation across podcasting. The issue is often framed as moral, or 'We should be doing it because we're reacting to something.' All of that leaves a lot of leeway for avoidance of action."
"Podcasting is time-intensive work," Eric Eddings said. "It takes a lot of energy and time to make a podcast start and finish. then more time to serve advertisers, support technology, etc. How are we motivating people to do that? People of color in these environments are in perpetual burnout […] It's difficult to find producers of color. If you're looking for authenticity you want to recruit people like myself … so I do a lot of that recruiting."
Eddings noted that when his show started running ads, listeners sent congratulations. "That showed me the connection and support of the audience."
"A lot of people stop at the hiring. We have to keep people in this business. Pay attention to retaining people." –Kameel Stanley
Matt Turck (Head of Podcasting Publishing Solutions, Megaphone/Spotify), always a jocular and warm moderator at RAIN events, led a discussion with Paula Mangin (Owner, Boyce : Mangin), Ilwira Marciszek (VP, Digital Sales & Partnerships, AdLarge), Brigid Judge (Sales & Partnerships, Podsights), It was curiously titled, "Cab Franc, Merlot, and Podcasting: The Perfect Marriage." The discussion focused on the intersection of buy and sell in podcast advertising.
Brigid Judge observed a shift in the market, bringing in new advertisers which might not have the same calls-to-action as traditional direct-to-consumer mainstays of podcasting. "Big players like Telecom and Home Security are looking to rebrand themselves. They don't have promo codes or vanity URLs; they need to know that people who hear the ad might take an action. There has to be a return on investment."
Judge also noted: "When some people hear 'dynamic insertion,' the reaction can be 'Whoa, will the quality be as good as host-read?' But advertisers are trying to get smarter in how to spend. Baked-in ads will always exist." In her opinion, getting everyone on the same page for data, attribution, ranking, and other fragmented metrics "will take years."
She wasn't alone on that point; a need for universality came up again and again. IlwiraMarciszek: "I'd like to see a little more standardization and universality in ranking. A central repository for data and ranking; that would change the game on the sell-side."
Paula Mangin, who was assisted in this event by her cat, made an interesting observation about well-known participants on the creative side of podcasting: "There's been an explosion of celebrities getting involved. It's because of Covid, as TV and film production has been interrupted. It's fascinating to watch."
Next on the agenda was Scott Davis (SVP, NPR Sponsorship, NPR), leading the conversation with Maria Micchelli Turin (Director, Digital & Advanced Audio, Horizon Media), Andrew Eisner, (Co-founder & COO, Veritonic), Cassandra Laprairie (Audio Marketing, Wise) The session was titled "How to Navigate Sponsored Audio, Creative, and Attribution."
Maria Miccheli Turin noted that "News is really popping as a genre" — perhaps unsurprising in a Covd-plus-election year. She also emphasized the importance of creating an "authentic brand experience" for the listener.
Andrew Eisner itemized some components of that "Emotional resonance, intent, recall or memorability, engagement. Those four things let us measure the lifecycle of audio marketing." By way of a porediction, Eisner offered: "Emergent growth of a multi-channel world. The industry should think holistically, especially in measurement."
Cassandra Laprairie had a crystal ball  moment too:"I hope to see an increase in the demand, and a market for local and hyperlocal podcasts."
The day's final session had Steve Goldstein, (CEO and Founder, Amplifi Media) herding John Morris (VP, WideOrbit Streaming & On-demand, WideOrbit), Gerard Edwards (CEO & Founder, Podcast Radio), and Anne Frisbie (SVP, Global Supply, AdsWizz) in a conversation called "Advanced Targeting, Attribution, Interactive Advertising — It's a New Audio Space & Engagement."
Gerard Edwards described his Podcast Radio venture, fitting it into the podcast ecosystem as a new kind of discovery platform. He noted that although Spotify took ownership of The Joe Rogan Experience, the company also places clips elsewhere to lure in listeners.
The topic of brand safety was raised. John Morris talked of helping to aggregate smaller podcasters into a brand-safe, know-what-you're-buying basis, which makes sense for large advertisers to buy on that basis.
Anne Frisbie followed that line of thinking into what she called "contextual audiences" — a type of targeting that goes across different shows, targeted to content which has been established as brand-safe within those episodes. Frisbie also noted that most of the money in podcasting still runs on a direct-sold basis.
Watch RAIN News for session recordings of the fifth annual RAIN Podcast Business Summit.
.