In a MIDiA Research blog post authored by the research company's founder Mark Mulligan, the long tail of music providers is gradually taking Spotify listening share from major labels and the mighty Merlin aggregate of indie labels.
Here is the key graphic in this telling report: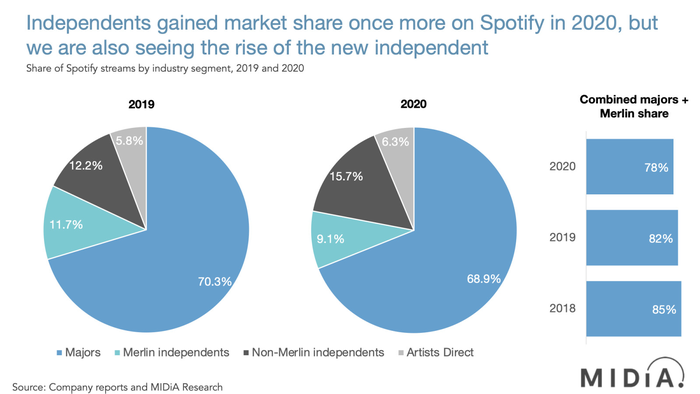 A "new independent" category is being established by this research, which Mulligan says resulted from a quirk in Spotify's 1st-party metrics. That quirk separates out major labels, and Merlin's label empire … leaving a long tail cohort of super-indie labels and "Artists Direct" providers for comparative analysis.
That analysis yields a key number representing that super-indie group: 22% in 2020. That is up from 18% in 2019, and 15%in 2018.
"The recorded music market is one in which label market shares typically move at a near glacial pace," according to Mark Mulligan. "In comparison, this shift is nothing short of tectonic. What we are witnessing is not just the emergence of a new pattern of growth in the recorded music business but also the emergence of a new breed of record label."
Mulligan emphasizes that the number represents streams (share of ear, roughly), not revenue (share of revenue). He says that is "directionally invaluable," and calls the phenomenon "the rise of the new independent."