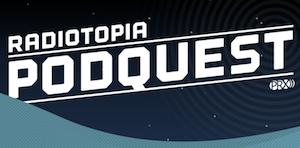 Radiotopia has introduced a contest seeking the next hit show of the podcasting world. The Podquest contest will collect show idea submissions for one month, which will then be narrowed down to 10 semifinalists. After interviews with the selection team, three finalists will be chosen to produce pilot episodes with the help of Radiotopia's experts. One winner will then have the opportunity to produce a full series to be part of Radiotopia's 2017 show roster.
Beginning at the semifinalist stage, participants will receive both cash prizes and time working with Radiotopia producers. The semifinalists will all receive free Hindenburg radio editing software, two free years of Radiotopia membership, and a year's membership to media talent network AIR. The finalists will each have $10,000 and four months to produce their pilots. The Podquest campaign was funded by a grand from the John S. and James L. Knight Foundation.
"Radiotopia's mission is to provide a powerful, supportive platform for podcasting's boldest voices," Julie Shapiro, executive producer of Radiotopia, said. "Podquest will connect us with ambitious, emerging producers and bring their creative talents to audiences hungry for Radiotopia-style podcasts: shows that consistently showcase innovative, provocative and carefully crafted storytelling."
Radiotopia is a premium podcast showcase owned by PRX, an open content market for public radio.