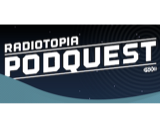 Radiotopia has selected the finalists for its Podquest competition. The contest collected ideas for new podcasts from 1,537 producers, and a group of Radiotopia and PRX staff narrowed that field to ten semifinalists. From there, four finalists have been chosen.
Nigel Poor, Antwan Williams, Earlonne Woods pitched Ear Hustle, which tells real stories about life inside prison. The Difference Between presents the concept of "information doppelgängers," which hosts Jericho Saria and Hadrian Santos have dubbed when two things are frequently confused for each other. Vivian Le proposed a show called Villain-ish, which will present new spins on people and characters usually framed as the bad guys. Lastly, Meat by Jonathan Zenti discusses the impact humans' physical bodies have on our lives.
Each of the finalists will each receive $10,000 and assistance from Radiotopia to produce pilot episodes for their pitched shows. The winner will then produce an entire show to air in Radiotopia's 2017 programming.